Letter from the Winemaker
I am super stoked about the amazing wines in the Fall Release!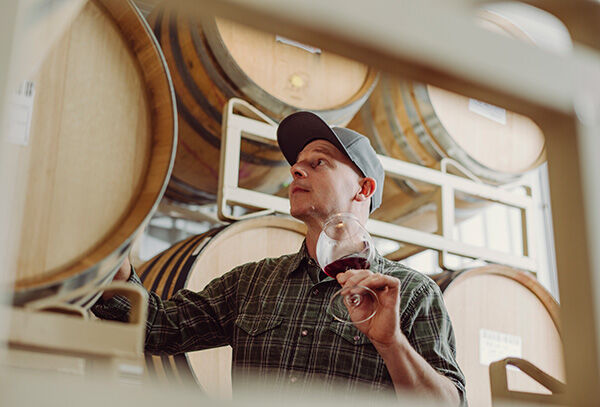 Hello Friends,
I hope this fall shipment finds you on the heels of a great summer and that you, your family, and friends are healthy and well. Here at the winery, we are smitten with this set of wines and are excited to share them with you.
A new harvest brings another chance for us to chase perfection. Knowing well that this is a lifetime pursuit, we're remain eager to keep chasing. We are always grateful and revved up for each new opportunity. As you read this, we are in the thick of harvest 2022. Normally, when harvest is over, we're exhausted both mentally and physically, but as we move through spring and summer, we start to get anxious with anticipation for the upcoming harvest. This growing season has been mild and relatively cool. We had just enough rain during winter to replenish our ponds to give us enough water for the vines. The vineyards are healthy, and yields are moderate to normal. As each year is different, we're sure to have another unique vintage on our hands.
One wine I'd like to highlight in this release is a new wine that we've been cellaring for the past few years. I am over-the-moon excited to showcase it to the world. In this shipment, you'll find the 2019 Taylor Peak Cabernet Franc! Early on in my career, I was enamored with the red wines of France's Loire Valley. I fell in love with Cabernet Franc's characteristics: bell pepper, dark fruit, earthy, and rustic in nature. Since those days, I've wanted to make cool-climate Cabernet Franc in California. With this wine, that dream has come to fruition. You'll find this wine to be very much "California" albeit with a little nod to those Loire Valley wines. This estate vineyard is located 1,400' above Santa Rosa at the very top of Taylor Mountain, where steep, rocky, volcanic soils meet steadfast coastal breezes that keep temperatures cool throughout summer.
While we're creating the 2022 vintage, we hope you will enjoy this shipment of wines. Thanks for your support.
Best wishes,
Ryan Zepaltas