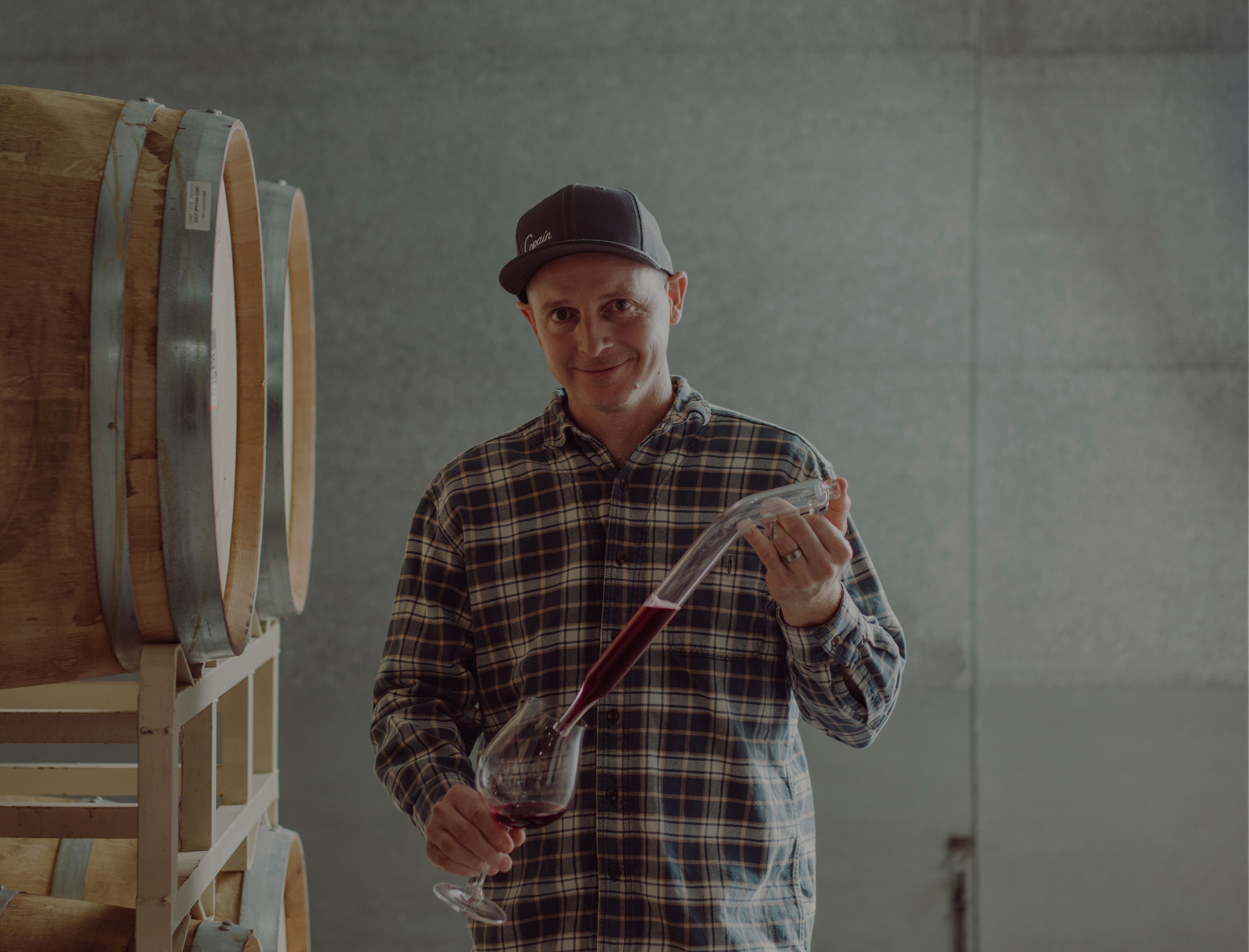 Winemaker & General Manager
It's hard to imagine a more ideal successor to Copain's winemaking legacy than Winemaker and General Manager Ryan Zepaltas.
Even more compelling than Ryan's winemaking pedigree is his passion for Copain's style of wines – the same style he championed under his own, critically-acclaimed Zepaltas Wines.
While, today, he can't imagine being anything other than a winemaker, Ryan's career certainly didn't start out that way. He grew up in the beer-drinking culture of Wisconsin, where wine just wasn't part of the picture. After college, Ryan moved to Sebastopol, CA to live with relatives, and pursue his real passion at the time: skateboarding. A self-described skateboard "addict" Ryan knew that the San Francisco Bay Area was the place to be, if you wanted to "make it" in skateboarding (whatever that means). After two weeks, he was broke, and in search of a job. Luckily, one of Ryan's new friends was the cellar master at La Crema, and offered him a harvest job at the winery.
Ryan had visions of hanging out with friends, making and drinking wine all day – and getting paid for it. It sounded perfect. While it didn't turn out to be exactly that, it wasn't long before Ryan's interest in the art of winemaking was piqued. He even traveled to the Southern Hemisphere for an opportunity to work harvest at New Zealand's acclaimed Villa Maria. What started as a fun adventure, turned into an epiphany. While there, Ryan realized that, more than just a job, winemaking was what he wanted to do with his life. After returning to the states, he helped at several wineries while looking for a full-time role at a small, artisan winery.
During the summer of 2000, Ryan interviewed with Siduri, a then relatively unknown Pinot Noir producer, housed in a Santa Rosa warehouse. He was particularly excited, because Pinot Noir had become his favorite varietal. After meeting with winemakers Adam and Dianna Lee, and hearing their passion for making small batch, site-specific Pinot Noir, Ryan knew he'd found a home at Siduri. Over the next two decades, Ryan played an integral role in the quality and character of Siduri wines, first as Cellar Master and then as Assistant Winemaker and Winemaker.
In 2004, while still at Siduri, Ryan launched his own label, Zepaltas Wines, to focus on small-lot, cool-climate Pinot Noir, Syrah, Chardonnay and Sauvignon Blanc. Then, in 2018, Ryan was offered what he calls his "dream job", as Winemaker and General Manager for Copain. Today, he oversees all winery operations at Copain, and continues the winery's unwavering commitment to elegant, balanced and food friendly wines. When not at the winery, Ryan spends time with wife, Anna and daughters Audrey and Claire. And, occasionally, he still shreds.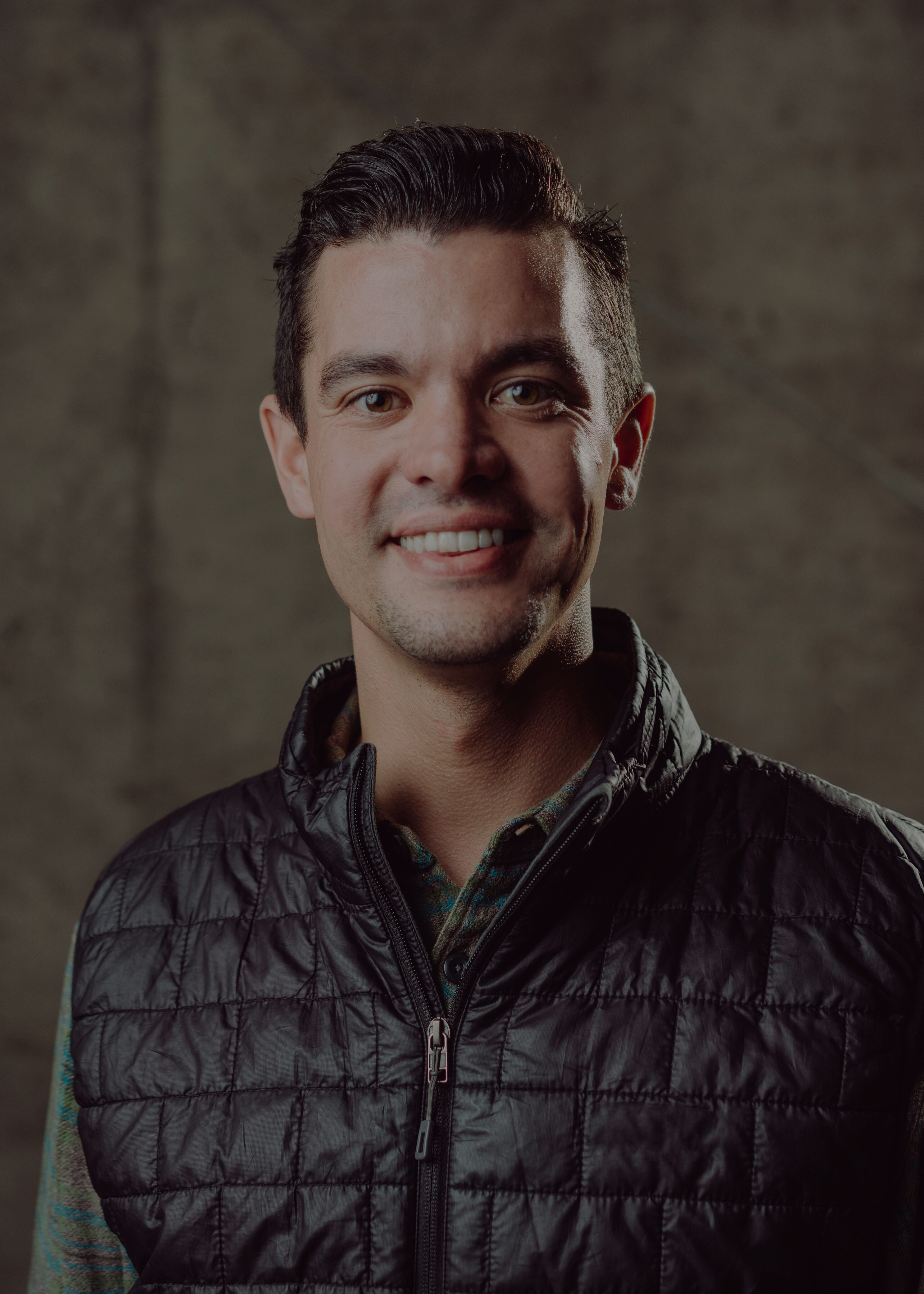 Growing up in Napa, Quin looked up to people working in the wine industry. They worked hard, and it looked like they had so much fun. Working with your hands and drinking wine? He thought, what's not to love!? During his high school summers, Quin worked on a mobile bottling line and admired all the different wineries. As it became time to figure out what Quin wanted to do with his life, he decided to pursue his dream of becoming a winemaker. Quin studied Wine and Viticulture at California Polytechnic State University, San Luis Obispo, with a concentration in Enology.
Quin found a cellar position at Cambria Winery through a career fair and began "paying his dues." Quin spent one year at Cambria Winery, learning cellar and lab operations, and then moved to Byron Winery, where he sharpened his Pinot Noir winemaking skills.
While Quin enjoyed his time on the Central Coast, he found it was time to come home. Back in Sonoma County, Quin moved into a large production facility in Geyserville - "I think learning how to make wine at that scale is crucial; you learn things you wouldn't learn at smaller facilities, and you learn things quickly. A position opened at Copain, and the chance to work with small lots of high-end Pinot Noir and learn a new style of winemaking seemed like a dream!" – Quin Donahue.
Today, Quin works closely with Ryan Zepaltas on crafting premium lots of Pinot Noir, Chardonnay, and Syrah. He manages the day-to-day operations at the winery and still gets his hands dirty in the cellar. Quin oversees a couple of vineyards throughout the Sonoma Coast and collaborates with vineyard managers to nail the perfect picks during harvest. He is also responsible for crafting the Mendocino Rose, sourced from the Yorkville Highlands.
In his spare time, Quin loves spending time with his Fiancé in San Francisco, snowboarding during the winter, and perfecting his sourdough bread.