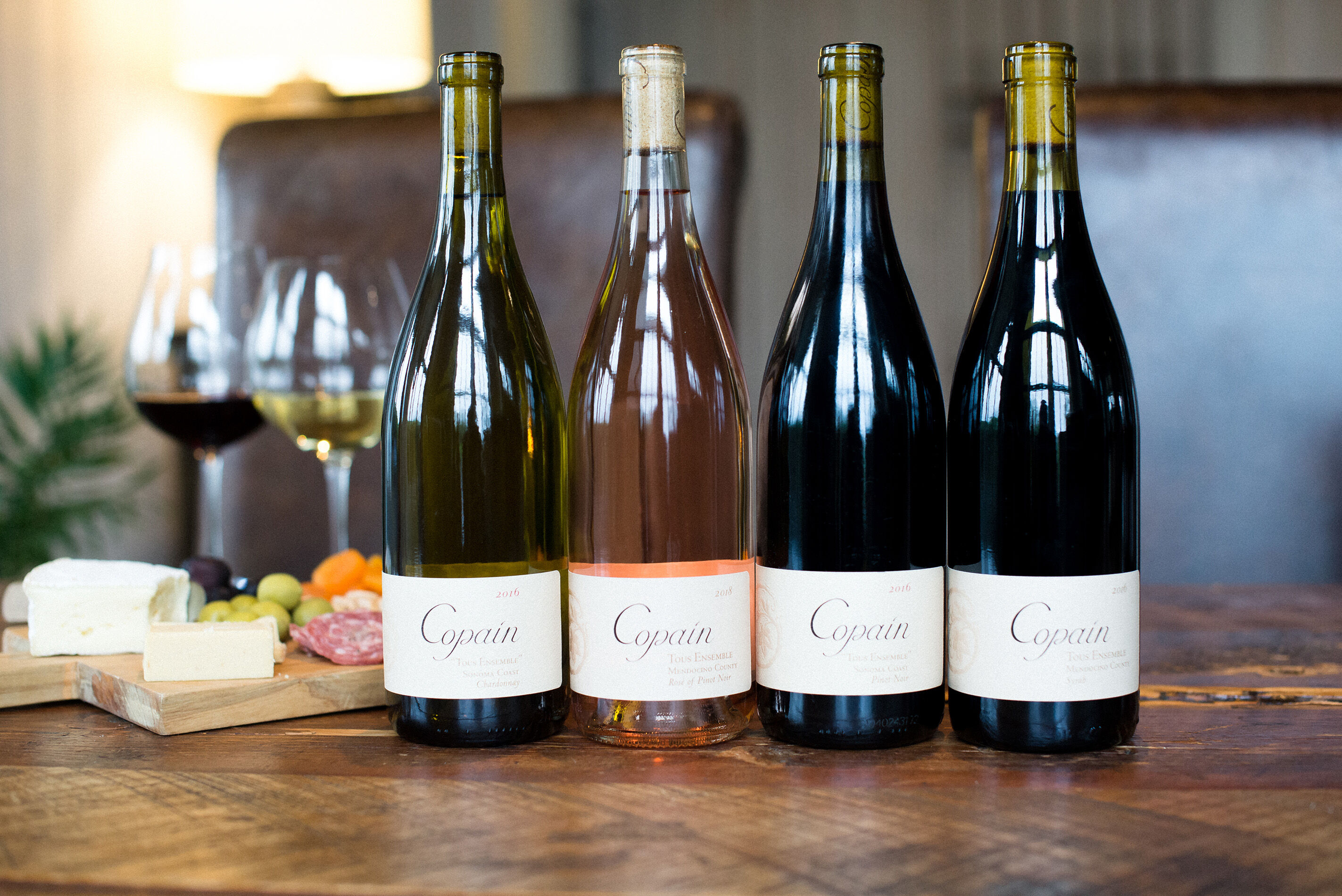 Chef's Dinner Menu Paired with Copain's Tous Ensemble Wines
With more time to cook at home these days, Copain's Winemaker, Ryan Zepaltas, recently (virtually) collaborated with Jackson Family Wines Chef, Tracey Shepos Cenami, to produce a delicious multi-course menu paired with Copain's Tous Ensemble wines.
Tous Ensemble means "all together" in French, perfectly expressing the intent of this menu pairing; to bring people together, whether virtually or in person.
While preparing this two-course meal, enjoy a glass of Copain Tous Ensemble Rosé of Pinot Noir with an assortment of cheeses, cured meats, and pickled vegetables.
Appetizer: Grilled Asparagus with Olive & Nasturtium Leaf Tapenade
Pairing: Copain Tous Ensemble Chardonnay
SERVES 4
Ingredients
4 lb. large asparagus spears, tough ends trimmed
1 cup extra-virgin olive oil
1 teaspoon kosher salt
3⁄4 cup Castelvetrano olives, pitted
1 small clove garlic
1 small shallot, chopped
Leaves from 5 tarragon sprigs
6 small, young nasturtium leaves or baby arugula leaves
Finely grated zest of 1 lemon
1⁄2 cup smoked almonds, very finely chopped
2 oz cold Point Reyes Toma cheese or aged manchego cheese, grated on a Microplane or other fine-rasp grater
Preparation
Preheat grill to medium.
To grill asparagus: On a large cookie sheet, toss the asparagus with 4 teaspoons of the oil and the salt. Carefully place on the grill, being sure to set them as not to fall through the grates. Set the cookie sheet aside for later use. Cook for 2 minutes and carefully turn over to the other side. Cook an additional 2 minutes until crisp-tender. Place in a single layer on the cookie sheet.
Meanwhile, make the sauce: In a blender or food processor, combine the olives, garlic, shallot, tarragon, nasturtium leaves, lemon zest, and remaining olive oil and process until the mixture has the consistency of a chunky paste. You should have about 1 cup.
To serve: Place the almonds, cheese, and ¾ cup of the olive sauce on the sheet pan with the asparagus and toss to coat evenly. Transfer to a serving platter. Serve at room temperature, with the remaining olive sauce on the side (or reserve for another use, covering and refrigerating it for up to 3 days).
Main Course: Grilled Skirt Steak with Kale & Cherry Tomatoes
Pairing: Copain Tous Ensemble Pinot Noir
SERVES 4
Ingredients
2 pounds skirt steak
Kosher salt
2 tablespoons rice oil
Freshly ground black pepper
4 tablespoons extra-virgin olive oil
2 lb. kale, thick stems removed and leaves torn (about 10 oz cleaned)
1 clove garlic, thinly sliced
1⁄2 lb. cherry tomatoes
2 Tablespoons high-quality Olive Oil
Sel Gris, for finishing
Preparation
Preheat grill to high.
To prepare the steak: Remove the steak from the refrigerator. Pat dry with a paper towel and let sit at room temperature for 30 minutes.
To grill the steak: Season the skirt steak with salt and pepper and drizzle with olive oil. Grill the steak over high heat for 2 minutes per side for medium-rare (or to your desired doneness). Place the skirt steak on a platter and cover loosely with aluminum foil. Let rest for at least 5 minutes while you cook the kale.
To cook the kale: Preheat a 12-inch heavy-bottomed cast-iron skillet on the grill for 3 minutes. Add the olive oil, swirl the pan to distribute evenly, and then let heat for about 20 seconds. Add the kale and 1 teaspoon salt and cook, occasionally stirring, for 2 minutes. Add the garlic and cook for 1 minute longer. Move the kale to one side of the pan and slide that side of the pan off the heat. Add the cherry tomatoes to the other side of the pan still over the heat and cook, shaking the pan slightly to turn them, for about 2 minutes, until the skins pop and the tomatoes are warm.
To serve: Cut the steak against the grain into thin, uniform slices. Divide the kale and tomatoes evenly among individual serving plates and top with the steak. Drizzle with high-quality olive oil and sprinkle with the Sel Gris and serve.